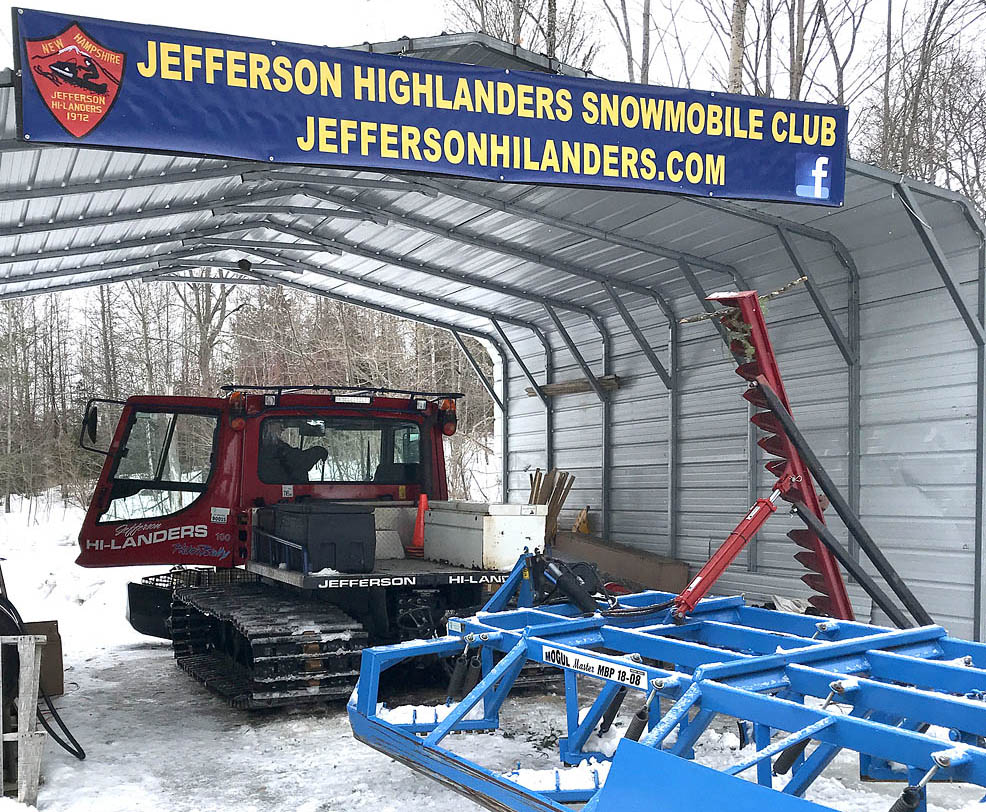 7-9-21
Jefferson Hilanders Cookout/Meeting.
Rain Or Shine.
Saturday September 11th 129 Presidential Hwy (RT2) Jefferson NH 12PM to Whenever, all 2020-2021 members are welcome, each family please bring a dish and whatever you wish to drink. Dogs and Burgers will be provided.
We have not had a regular meeting for a full year so this will be an extended gathering. See highlights of a proposed agenda below. If anyone has a suggestion to add to to the agenda please contact an officer of the club and submit your ideas or concerns.
Secretarie's, Treasurer's, Trail Masters reports.
2. Groomer repairs: Oil change, cutter bar fix, lights, shorten hydraulic hoses, new tool box for drag, new skags on drag.
Paying groomer operators. (Free ATV & Snowmobile registrations)
Trail work: Clear brush on Fire Tower Agnew and 25$ trails, check all other trails.
Bonfires: Offer free Hot Dogs and Coffee, build Benches,offer guided tours on Saturday's.
Credit Card Reader.
Map adds: How many, How much, Who will do it.
By Law update: Distribute copy of proposed changes for action at next meeting.
Election of Officers: (Anyone wishing to run for any office incumbent or new please submit your name to secretary Rose Sullivan before the meeting..)
Purchase Banner for Bonfire.
Eliminate the office of Vice President. (this will make the number of officers 5 that will eliminate the possibility of a tie vote)
Due to the covid 19 problem no club meetings will be held on the regular schedule. If an emergency arises we will have to meet somewhere where we can meet state requirements for safety.
VIP Access to 7,000 miles of NH Snowmobile Trails
From Dan Gould NHSA Executive Director:
One little understood aspect of snowmobiling is the cost of grooming. Imagine that you could buy a single-day lift ticket and then ski all season at any resort in the state at no additional cost. Crazy talk, right?
Well, that's essentially what you get with a snowmobile registration. It costs about the same as a single-day on the slopes but allows VIP access to 7,000 miles of trails anywhere in NH. For the whole year! That's the best deal on snow, and you can thank a tiny number of club volunteers who make it a reality.
Problem is, registration dollars no longer cover the costs of making smooth trails. What's a volunteer to do if they don't have enough cash to fill the groomer with fuel? That's the question that snowmobilers face today. The answer is obvious. We all need to pitch in and make life easier for the club volunteers to maintain the trails we love so much. It's the least we can do.
[Ken adds] Even if you are unable to physically help, it will help if you join a club that's on the trail systems you ride. In other words, if you spend some decent time riding in the Jefferson area, it would help our club if you joined our club for your registration. Thanks!
REGISTER YOUR SLED
Join our club online through NHSA's website.
Join our club through NHSA's website @, (NHSA.COM) and receive an emailed voucher from NHSA. You now have the option of joining as an individual or as a family at different rates, individual $25.00, Family $30.00.

Join through the club directly.
Do it right here in three easy steps!
1. Download our Jefferson Hi-Landers Membership Form.
2. Complete printed form, and mail with your check to PO BOX 273 Jefferson NH 03583
3. We will send you your NHSA membership "VOUCHER" which will allow you to register your machine at any NH OHRV authorized facility.
Note: The cost will be the same as in the past, $25.00 as an individual or $30.00 as a family.
Jefferson Hi-Landers CLUB OFFICERS
President: Bob Roy
Vice President: Jesse Libby
Treasurer Vacant
Secretary: Rose Sullivan
Trail Master: Jerry Mello
Trail Administrator: Jack Sullivan
Jefferson Hi-Landers Club Meetings
Club meetings are usually held at 6PM on the 2nd Saturday of each month, Sept through April.
129 Presidential Hwy (RT2) Jefferson, NH
All are welcome and encouraged to attend!
If there are any changes they will be posted to the "Club Calendar"
The law states that a Groomer has the right of way. Common sense says DO NOT PASS A MOVING GROOMER!!!

RECOMMENDED PRACTICE FOR PASSING A GROOMER approved by NHSA map and trails committee
FOR ONCOMING SLEDS: The sled should pull off the trail and allow the groomer to pass by.
OVERTAKING A GROOMER: The groomer operator should find a safe place to pull over and stop. The rider can then check to see if they can safely pass the groomer.


NOTE: The groomer operator will not signal a sled to pass.

Reason: Each rider must take responsibility for passing the Groomer.
NEW HAMPSHIRE STATUTES GOVERNING PASSING A TRAIL GROOMER.
215-c:8 operation of snowmobiles.
section IIIb, Item 3: 10 miles per hour at trail junctions on parking lots, or when passing Trail grooming equipment.