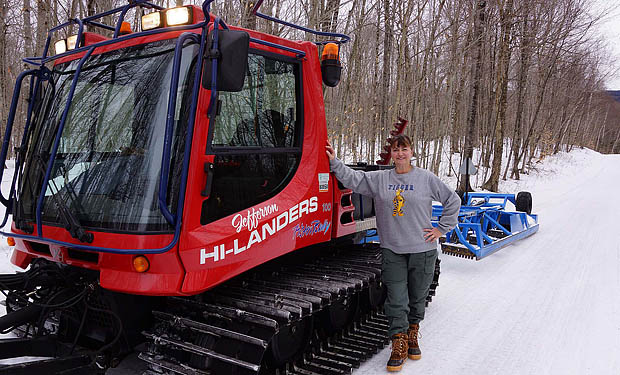 Trails Are Open For The Season!
Feb-22-2018 UPDATE
NEWS
Grooming has STOPPED until we get more Snow.
Expect spring conditions on trails as rocks, stumps, ice and dirt spots becoming prevalent with the above freezing temperatures we are experiencing. Campground trail has flooding, also the culvert under RT115 is flooded, avoid this trail. The flooding is just temporary and should subside in the next 24 Hrs.
Register Your Snowmobile In New Hampshire
Join Through NHSA online.
NHSA'S website is back online, nhsamembership.com, allowing sledders to join clubs using their app. You now have the option of joining as an individual or as a family at different rates, individual $25.00, Family $30.00.

Join through the club directly.
Do it right here in three easy steps!
1. Download our Jefferson HiLanders Membership Form 2017-18.
2. Complete printed form, and mail with your check to PO BOX 273 Jefferson NH 03583
3. We will send you your NHSA membership "VOUCHER" which will allow you to register your machine at any NH OHRV authorized facility.
Note: The cost will be the same as in the past, $25.00 as an individual or $30.00 as a family.
Jefferson HiLanders CLUB OFFICERS
President: Gerald Reed
Vice President: Judy Ascetta
Treasurer: Opal Bronson
Secretary: Rose Sullivan
Trail Master: Jerry Mello
Trail Administrator: Jack Sullivan
Jefferson HiLanders Club Meetings
Club meetings are usually held at 7PM on the 2nd Saturday of each month.
129 Presidential Highway, Jefferson, NH
All are welcome and encouraged to attend!
If there are any changes they will be posted to the "Club Calendar"
The law states that a Groomer has the right of way. Common sense says DO NOT PASS A MOVING GROOMER!!!

RECOMMENDED PRACTICE FOR PASSING A GROOMER approved by NHSA map and trails committee
FOR ONCOMING SLEDS: The sled should pull off the trail and allow the groomer to pass by.
OVERTAKING A GROOMER: The groomer operator should find a safe place to pull over and stop. The rider can then check to see if they can safely pass the groomer.


NOTE: The groomer operator will not signal a sled to pass.

Reason: Each rider must take responsibility for passing the Groomer.
NEW HAMPSHIRE STATUTES GOVERNING PASSING A TRAIL GROOMER.
215-c:8 operation of snowmobiles.
section IIIb, Item 3: 10 miles per hour at trail junctions on parking lots, or when passing Trail grooming equipment.