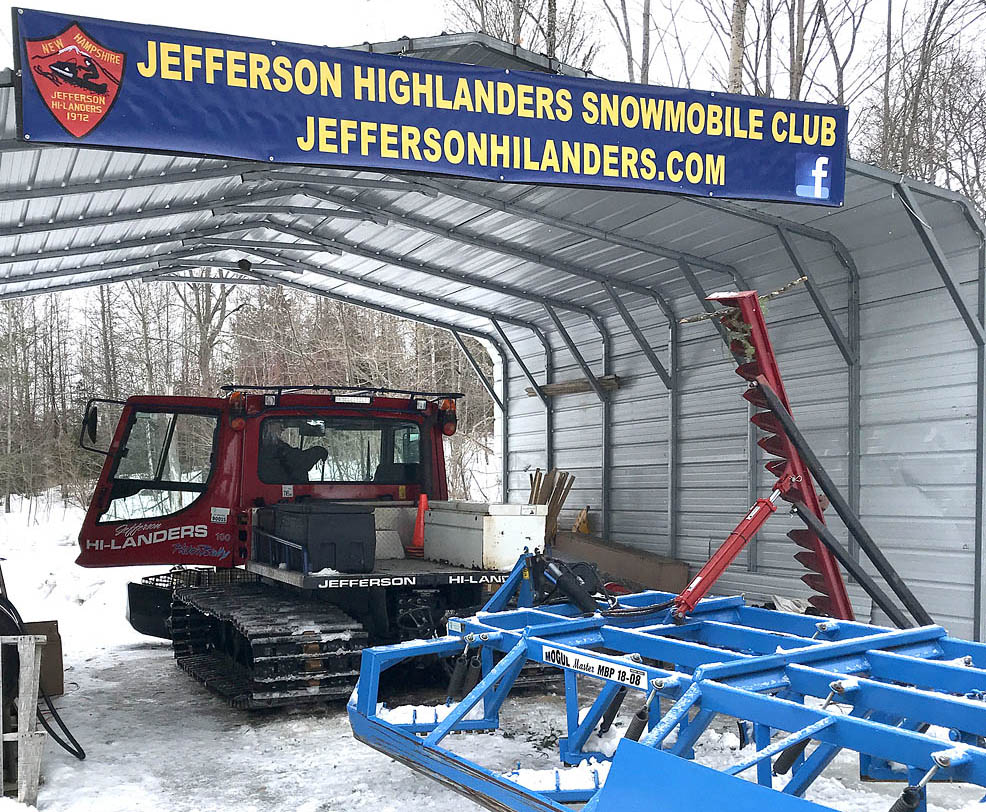 3-3-21
We groomed all trails 3-2-21 PM. Conditions Good to Great a few moguls on Ch Mt Rd and Fr 93 but one more grooming should smoothen them out.
Bonfire Every Saturday
Chambers Rd on Agnew Trail 1 to 4PM all are welcome so stop by to shoot the breeze and get warm.
12/10/20
Many thanks to Richard Garabedian for stepping up and taking on the responsibility of the Treasurers job, we know with his business background he will do the job efficiently and responsibly.
Due to the covid 19 problem no club meetings will be held on the regular schedule. If an emergency arises we will have to meet somewhere where we can meet state requirements for safety.
There are questions as to whether or not we will have a normal snowmobile season this coming year, the answer at this time is YES we will have a snowmobile season although it may have some wrinkles like Restaurants, Motels, Gas Stations etc may not be open or be on restricted schedules, Clubhouses may be closed along with warming hut's. You will be well advised to call ahead before venturing to the north country for a weekend of riding. Trails will be Groomed and maintained as in the past on the same schedules as this coming season's GIA will not change. Registration fees have gone up to $99.00 for residents who join a club and $119.00 for nonresidents who join a club. NHSA's interactive website is revised and easier to use for those who want to join a club online.
2020-2021 Trail maps now available. Send $6.00 to Jefferson Hilanders S.C. Po Box273 Jefferson NH 03583. Click our Facebook link to see map. Be sure to include your return address with remittance.
VIP Access to 7,000 miles of NH Snowmobile Trails
From Dan Gould NHSA Executive Director:
One little understood aspect of snowmobiling is the cost of grooming. Imagine that you could buy a single-day lift ticket and then ski all season at any resort in the state at no additional cost. Crazy talk, right?
Well, that's essentially what you get with a snowmobile registration. It costs about the same as a single-day on the slopes but allows VIP access to 7,000 miles of trails anywhere in NH. For the whole year! That's the best deal on snow, and you can thank a tiny number of club volunteers who make it a reality.
Problem is, registration dollars no longer cover the costs of making smooth trails. What's a volunteer to do if they don't have enough cash to fill the groomer with fuel? That's the question that snowmobilers face today. The answer is obvious. We all need to pitch in and make life easier for the club volunteers to maintain the trails we love so much. It's the least we can do.
[Ken adds] Even if you are unable to physically help, it will help if you join a club that's on the trail systems you ride. In other words, if you spend some decent time riding in the Jefferson area, it would help our club if you joined our club for your registration. Thanks!
REGISTER YOUR SLED
Join our club online through NHSA's website.
Join our club through NHSA's website, Jefferson Hi-Landers Membership, and receive an emailed voucher from NHSA. You now have the option of joining as an individual or as a family at different rates, individual $25.00, Family $30.00.

Join through the club directly.
Do it right here in three easy steps!
1. Download our Jefferson Hi-Landers Membership Form.
2. Complete printed form, and mail with your check to PO BOX 273 Jefferson NH 03583
3. We will send you your NHSA membership "VOUCHER" which will allow you to register your machine at any NH OHRV authorized facility.
Note: The cost will be the same as in the past, $25.00 as an individual or $30.00 as a family.
Jefferson Hi-Landers CLUB OFFICERS
President: Bob Roy
Vice President: Jesse Libby
Treasurer: Richard Garabedian
Secretary: Rose Sullivan
Trail Master: Jerry Mello
Trail Administrator: Jack Sullivan
Jefferson Hi-Landers Club Meetings
Club meetings are usually held at 6PM on the 2nd Saturday of each month.
129 Presidential Hwy (RT2) Jefferson, NH
All are welcome and encouraged to attend!
If there are any changes they will be posted to the "Club Calendar"
The law states that a Groomer has the right of way. Common sense says DO NOT PASS A MOVING GROOMER!!!

RECOMMENDED PRACTICE FOR PASSING A GROOMER approved by NHSA map and trails committee
FOR ONCOMING SLEDS: The sled should pull off the trail and allow the groomer to pass by.
OVERTAKING A GROOMER: The groomer operator should find a safe place to pull over and stop. The rider can then check to see if they can safely pass the groomer.


NOTE: The groomer operator will not signal a sled to pass.

Reason: Each rider must take responsibility for passing the Groomer.
NEW HAMPSHIRE STATUTES GOVERNING PASSING A TRAIL GROOMER.
215-c:8 operation of snowmobiles.
section IIIb, Item 3: 10 miles per hour at trail junctions on parking lots, or when passing Trail grooming equipment.